Galahad Marine Sales
15 Grandview Avenue | 230 Riverside Drive
North East, Maryland, US, 21901
Tel:833-425-2423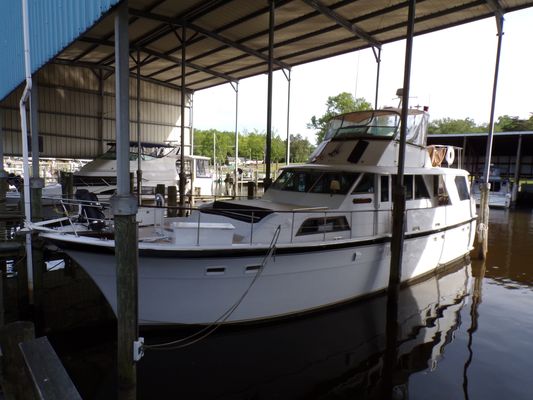 1976 Hatteras 53 Motor Yacht
NORTH EAST, Maryland
This 53 was purchased in May, 2012. In the 7 ensuing years, a program of continuous upgrades has been performed. While the vessel's cosmetic condition was not ignored, the main focus of the upgrades has been to the mechanical systems and infrastructure components which form the backbone of any vessel. Currently the vessel is shed kept in fresh water on the upper Chesapeake. Following is a summary of the vessel's overall condition and recent upgrades organized by category but in no particular order.
The integrity of the Hatteras fiberglass hull is as strong as the day it was launched.
Entire hull media blasted, hull faired and barrier-coated with Interlux 2000 (approx. date 2010)
Routine haul outs and complete bottom / running gear maintenance every 2 years since purchase.
Don't wait to schedule your tour of this masterpiece today!
FINANCING UP TO $100K AVAILABLE TO QUALIFIED BUYERS
Specifications
Total Engine Power
850 hp
Engine 1 Specifications
Engine 2 Specifications
Upgrades
All the below maintenance was performed by McDaniels Yacht Yard (Galahad Marine) in the Fall of 2018
Hauled, power washed and inspected Fall 2018. There was no blistering of any kind observed.
2 coats Interlux Micron (Black) multi-season ablative bottom paint applied (Fall 2018)
Boot stripe re-painted (Fall 2018)
Entire hull waxed (Fall 2018)
Complete running gear maintenance (see below)
Running Gear
Shafts, couplings, propellers, struts and rudders inspected. No end play or side-to-side cutlass bearing movement (Fall 2018)
All above components stripped to bear metal and polished (Fall 2018)
4 x new shaft zincs (2 per side)
New rudder zincs
All above components coated with Petit barnacle barrier (Fall 2018) NOTE: This was done even though the boat is kept in fresh water
Spare SS Shaft and 2 x spare propellers
Engines/Engine Rooms
DD 8V71Tis with approx. 1400 (+/-) running hours each
Top end refresh performed by the PO approx. 2005
Complete oil change (correct Chevron Delo 100 40wt) (Fall 2018)
220vac block heaters installed (Fall 2017)
New 2-1/2" main raw water intake hoses replaced (2013)
Replaced raw water impellers (Fall 2017)
All new Morse / Teleflex control cables (2014)
Flush, clean and re-fill cooling systems
Install coolant recovery tanks
Glendinning Synchronizer
Custom thermostatically controlled hot air extractor / ventilators installed 2018. Vents both ERs at pre-set ambient temperature.
Factory air compressor driven off the port engine with tank, lines and gauges
"Reverso" Oil Change System
Jim Stitz of White Marsh Diesel in MD, who is arguably one of the best and sought after DD mechanics anywhere around the Chesapeake, performed the following work on these engines in the summer of 2018:
Complete overall inspection: running and static
Remove valve covers, adjust all valve clearances and injectors
Inspect, pressure test and replace as needed cooling system hoses and clamps
Replace all brass block drain cocks in fresh side of cooling system
Inspect interior of turbos, ensure free movement and no oil leakage
Replace turbo foam air silencers
Both heat exchangers cleaned
Marine Gears
Allison M20 Gears
Hydreco hydraulic pumps re-built (2016)
Allison spin-on filter adapters and new filter elements installed (2016)
Complete fluid change concurrent with above activities
Fuel System
Twin Racor 500 primary filters series per engine
Port side Racor selector assembly rebuilt by Jim Stiltz summer 2018
New filter elements installed- all 4 units
Racor water detectors installed but not wired to helm yet
New spin-on secondary fuel filters installed
2 x fiberglass factory fuel tanks keel mounted amidships. Total capacity approx. 550 gallons. Currently the tanks are full having been topped off.
Ground Tackle/Bow Equipment
32VDC Ideal windlass. Operates as designed
Properly sized Danforth-style anchor with chain leader and approx. 200 ? 5/8? rode.
Spare Danforth style on deck
4 x black fenders in SS bow baskets
Misc. dock lines in varying condition
2 x factory Hatteras deck boxes for storage
Boat hooks
New Perko chrome ship's bell in custom arch at bow area.
Electrical
Newer 15KW Westerbeke Diesel Genset with sound shield. Approx 250 running hours. Maintenance running time between cruising routinely performed. (new approx. 2007). Fall 2018 maintenance performed. Spares included. Separate 12vdc starting battery. Separate Racor 500 series fuel filter. New element installed fall 2018.
MasterVolt 12vdc 3-bank charger (for 12v house and generator start batteries)
Both 32v alternators re-built (2015)
New 3.2KW Outback Inverter / Charger professionally installed (Fall 2017) Can run entire boat on the hook excepting high current appliances like the stove/oven, A/C etc.
Outback remote installed at helm
Original factory 32vdc charger retained as a backup to the Outback
2 x 50 amp Galvanic Isolators installed (port / starboard shore power) Fall 2018
Factory shore power selector system in great shape with no known issues
Factory 120vac / 32vdc electric panel in great shape with no known issues
12 VDC sub-panel installed to transition some accessories from 32vdc to 12vdc
32vdc to 12vdc converters installed to operate selected appliances on 12v rather than 32v but still retain the 32v breaker.
Most 120vac duplex outlets replaced – some with GFCI as required
32vdc batteries are 8D flooded (4 x 8v units) 2 banks: starting and house. Were purchased by the PO just prior to my purchase. Batteries are inspected often and have only require minor topping up (distilled water only) twice per year. The Outback 3-stage charger does a magnificent job of keeping these batteries fully charged and viable at all times
Battery combining switch at helm
Most vessel lighting upgraded to LED including 120vac / 32 and 12 vdc units
1 x 50 amp shore power cord
1 x 30 amp shore power cord
2 x 35 watt solar panels mounted at front of fly bridge shell.
Sanitation/Fresh Water System
Sanitation
All below items were purchased new and installed in the winter of 2016

Three new Sealand "Masterflush" 3800 series fresh water flush toilets installed with digitl touch panels for flush controls
New PEX water lines installed to all 3 heads with separate shutoff valves
12vdc operation (selector switches installed to use either 12vdc from the house 12v battery or 32v to 12 vdc converters installed on the original 32vdc breaker in the factory panel)
All new Shields sanitation lines run to both holding tanks with back flow preventers
All new holding tank selector manifold can divert aft 2 heads to either of the 2 x holding tanks.
New macerator pump installed on forward holding tank
New locking ?Y-valves? installed for tank or overboard selection
New keyed switches in all heads to control overboard waste discharge


NOTE: The installation of these new fresh water flush units allowed the permanent closing of several thru hull valves previously used for the galley maid units for an overall improved safety posture.
Fresh Water
Approx 272 gal of fresh water in three tanks – all gravity feed to primary tank
Galley Maid 32vdc pressure pump.
Original copper water lines in good shape. Most accessible copper has been wire brushed and treated with PB Blaster "Corrosion Stop" (good stuff!)
New cold side PEX water lines run to all 3 new fresh water flush toilets.
All water lines insulated and aux heaters installed in inaccessible areas to prevent freeze up if heat fails for a short time
Heating/AC
Heating
This vessel has been optimized for winter live aboard use.

6 Separate built-in 220vac zoned electric heaters serviced by a separate heating sub-panel and the starboard shore power system.

Saloon
Galley
Forward stateroom
Guest stateroom
Master stateroom
Lazarette / generator space
All water lines: both copper and PEX, hot and cold have been insulated
Water heater is insulated and has a timer installed for energy saving
The interior space behind the heads on the starboard side have thermostatically controlled marine heaters installed to protect the insulated water lines further
The space under the washer / dryer has a dedicated marine thermostatically controlled heater installed to further protect the insulated water lines
The old headliner in the forward stateroom and in the engine room corridor has been removed, insulated with non-hydroscopic foam board then a new custom headliner installed.
2 x 220vac engine block heaters installed. These alone keep the entire boat warm the entire winter with a couple of fans blowing the heated engine room air forward and aft with the individual 220vac electric heaters set to a lower temperature as backups.
Air Conditioning
Main Saloon aft: dedicated 16000 BTU split system, squirrel cage fan – 100% functional. Original 3-knob manual controls
Main Saloon Forward and Galley: dedicated 16000 BTU split system, Squirrel cage fan 100% functional. Original 3-knob manual controls
Master Stateroom: Dedicated 16000 split system. Original fan. Upgraded digital control.
Guest and forward staterooms: Serviced by a single 16000 split system.
Aft Deck: Dedicated 16000 unit. Dedicated raw water pump under master stateroom berth.
Raw water pump. New March magnetic drive raw water AC pump installed (220vac) approx 2013
Raw water cooling hoses and shutoffs to engine-room mounted compressors replaced 2013
Fresh water flushing hose / valve installed. All units flushed prior to winterization fall 2018
Controls
Fire Control
Factory original 200# CO2 system piped to both engine rooms as well as the generator space.
Several 20# dry chemical extinguishers distributed throughout the boat. Various dates.
Water Control
4 X 32vdc Rule bilge pumps mostly 1500 to 2000 GPH
4 x helm mounted pump switches (Auto/manual)
Shower sump with separate pump/ discharge services the master and guest showers
Appliances
Original Modern Maid 4-burner 220vac SS electric cooktop.
Original wall oven over the cooktop. Oven works great,
Full size dishwasher under the cooktop.
Counter top microwave
New wine cooler (July 2019)
Full size black Kenmore refrigerator. Top freezer. Coils cleaned 2 x year.
Whirlpool front loading clothes washer.
Whirlpool front loading clothes dryer stacked on top of the washer in the forward stateroom.
Interior Details
Main Saloon
Leather couch comprised of three sectionals, the end sectionals are recliners
Classic polished wood cocktail table with storage
2 barrel chairs
32" HDTV on table between the barrel chairs
Proton AM/FM/Stereo/CD/DVD system piped to main saloon, galley, master stateroom and guest staterooms.
Bar unit with bottle / glass storage and mini-fridge
Engineered wood floor with area rug
Master Stateroom
Queen berth on the port aft side of the stateroom with optional single twin on the starboard if desired.
Large cedar-lined closet
many built-in drawers
Carpeted floor
Original red mahogany walls are in great shape.
Newer (2014) Queen size mattress with separate foam topper. All queen size bedding included if desired
G

uest Stateroom



Dual-purpose guest stateroom custom made by the previous owner. It can have the original twin berths or the port mattress can be removed revealing a custom made office desk and chair for your PC / printer, etc.
Carpeted floor
Red mahogany wood walls with marine grade light colored vinyl highlites under port lights.
Two NEW OEM (Fuller Brush) port lights installed (July 2019).
All twin sized bedding included if desired
Forward / Crew Stateroom
Factory original upper / lower twin berths with foam mattress pads.
Carpeted floor
Original headliner removed, ceiling insulated and new custom headliner installed
Master Bath
Nice condition. Mostly original with recent wall paper and towel bar/fixtures installed. SeaLand Masterflush 12vdc fresh water flush toilet with digital touch controls.
Guest Bath
Mostly original with recent wall paper and towel bar/fixtures installed. Wood laminate floor. SeaLand Masterflush12vdc fresh water flush toilet with digital touch controls.
Forward / Crew Bath

Nice condition. Recent wallpaper with high end towel bar / fixtures.
12vdc fresh water flush toilet with digital touch controls
Original shower pan / floor combo in good condition
Galley / Dinette

Recent high quality vinyl flooring
Dinette seats reupholstered
Original red mahogany walls , cabinets, drawers, etc. are in good overall condition.
Aft Deck
Rattan couch, chair and cocktail table. Cushions custom made 2015
4-place wood/glass dining table with 4 chairs. Custom made seat cushions that match the rattan seating
Aft drop curtains with zippered "smiles" (40 mil clear marine vinyl) custom made fall 2015. Material used was tan "Top Gun" which is levels above SunBrella in terms of durability and price.
Side windows on aft deck have smoked Plexiglas panels.
Air conditioned
Top Deck Flybridge Area
Railings were moved outboard by the PO to create a larger entertaining space in lieu of the traditional area for tender storage. The new placement of the railing, however, left a chained opening if the owner desires to take the aft space for a tender, Kayak, etc.
Deck was recently coated with Interlux "InterDeck" beige coating with Petitt bright white epoxy trim.
The 10' x 8' bimini is made of sunbrella on SS 1" frames. It was bought new in 2014 in fair condition.
Currently there are 40mil clear vinyl drop curtains attached to the inside of the sunbrella bimini to provide for all-weather piloting. Functional but the new owner may want to upgrade.
Newer white vinyl single helm chair on pedestal with foot rest
Factory original "dingy/tender hoist" with 120vac reversible motor. New SS wire rope and hooks installed fall 2018.
Factory Hatteras Air Horns operated off the port engine-mounted air compressor
Navigation / Electronics / Helm Detail
Lower Helm
Most of the newer electronics are installed on the fly bridge station with the installed Maretron backbone facilitating duplicating any N2K compliant equipment to the lower helm whenever desired. All recent electronics have been specifically chosen to be totally N2K compliant such as Simrad for this reason.
A newer high end helm chair by Pompanette (Platinum series Black / chrome multi-adjustable). Foot rest / reclines, adjusts up/down etc.
Richie constellation compass (red backlighted)
Outback Inverter remote
12 DVC sub-panel
Maretron N2K backbone home run to this area as well as both engine rooms, bridge and equipment mast
3 x newer electric windshield wipers (replaced the original air operated units)
Upper Helm
Newer single white vinyl helm chair with foot rest
N2K backbone extended here as well as back to and up the radar arch
Triple Simrad 8" MFDs (currently used to display the SIMRAD 3G digital Radar)
Separate Furuno GPS display
VHF Radio with full wave antenna on extension mast
Wilson Electronics 4GLTE Cell Phone amplifier antenna (Note, if the new owner desires to use this equipment, an updated modem / router needs to be purchased from Wilson and your cell service provider. When operational, this system provides cell /WiFi coverage up to 20 miles offshore.
Pyle Am/FM/CD receiver / player with 4 x speakers and separate antenna.
Compass
All required USCG Safety equipment included (needs updating)
Equipment (Radar) Arch & Extension Mast
N2K backbone extended up the mast
Led lighting under arch
Digital Yacht HD marine TV antenna
Furuno GPS antenna (hard wired to the Furuno GPS unit at the helm)
Simrad GPS antenna (connected to the N2K backbone)
Extension mast (holds 2 x radars (1 x open array, 1 x closed array)
New (2017) Simrad 3G digital radar (closed dome at top of extension mast) connected via the N2K backbone to one of the triple Simrad MFDs
Platform for a 2nd open array radar in place
Remote Maretron Weather connected to the N2K backbone
Backup digital weather station
New 12v LED Anchor light
New 12v white forward facing steaming light (with backup forward steaming / anchor light installed on the forward part of the fly bridge shell)
New 12v aft-facing navigation light (backs up the factory 32vdc white light in the transom)
32vdc port/starboard running lights
Miscellaneous Details
New indirect LED lighting installed in main saloon summer 2018
Newer windshield cover made 2015. Material used was tan "Top Gun" which is levels above SunBrella in terms of durability and price.
Newer bow seat cover made 2015. Material used was tan "Top Gun" which is levels above SunBrella in terms of durability and price. The bow seat cushions are black and are in excellent condition.
The overhead in the corridor between engine rooms has been insulated and a new headliner installed
Pricing & Financing
This excellent example of a classic 53' Hatteras MY is offered at $99,750. Up to $100,000 financing available to qualified purchasers with VG to excellent credit. (Not owner financed).
Disclaimer
The Company offers the details of this vessel in good faith but cannot guarantee or warrant the accuracy of this information nor warrant the condition of the vessel. A buyer should instruct his agents, or his surveyors, to investigate such details as the buyer desires validated. This vessel is offered subject to prior sale, price change, or withdrawal without notice.